Heads up to taxi cab drivers: Armed Robberies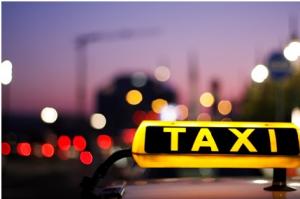 Armed robberies cause the Chicago Police Department (CPD) to issue a warning to taxi cab drivers. 
Drivers pick up a fare and take them to a destination. At the destination, the offender announces the robbery while placing the driver in a headlock and placing, what is believed to be a gun, to the drivers head, demanding money. 
In another scenario, the offender produces a large knife and stabbed the victim. 
According to the police, offender says he has a gun but is armed with a knife. 
In all incidents in the 14th, 17th and 19th Districts, the offender takes money and cell phones from the victims. 
Incidents to date
2000 block of W. Webster, Apr. 14 at 1:25 a.m.
3500 block of W. Melrose, Apr. 14, at 3 and 3:20 a.m.
3700 block of N. Clark, Apr. 15 at 1:20 a.m.
2000 block of W. Fullerton on Apr. 15 at 4:15 a.m.
2600 block of N. Kimball on Apr. 15 at 11 p.m. 
About the Offender
The offender is described as a male Hispanic, 5'07 to 5'09, weighing between 150 and 160 pounds. Clean  shaven, he is seen wearing a black baseball cap, black hooded sweatshirt and blue jeans. 
What you can do
Be aware of this crime and alert your neighbors.
Pay special attention to any suspicious people loitering in the area.
Call 911 immediately and provide a detailed description of the offender(s) including any vehicle description and license plate information. 
If you have any information about these crimes, please contact Area North Detectives at 312.744.8263. 
Incident numbers are JA-224024, JA-224069, JA-225321, JA-225427 and JA-226483.
Related:
Crime Stats By District
Columnists