$$Reward for Mummy Bandit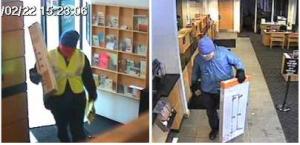 There is a reward for information about the "Mummy Bandit." He has robbed three North Community Banks since Dec. 20, two in our area.
He dresses in a cap with a mask or cloth covering his face. He wears dark jeans, dark shoes, light colored hoodie, orange and neon construction vest. He carries something like a bucket or box. He also carried a stuffed mouse, toy duck and TV wall mount box
He is described as a white male between 27 and 35 years-of-age, weighing about 230 pounds and is 6' to 6' 4" in height.
The bank at 4701 N. Clark St. was robbed on Dec. 20 and again on Feb. 1. On Feb. 22, he hit the bank in the heart of Wicker Park at 1555 N. Damen Ave. On Mar. 5 the robbery of the 2000 W. Division St. branch occurred at 4:34 p.m.
You can leave information about this offender at the FBI website or you can call 312.421.6700.
Related:
Crime Stats By District
Columnists