St. Nicholas Ukrainian Catholic School: humble beginnings in Chicago's Ukrainian Village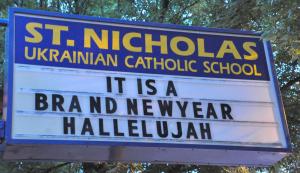 While St. Nicholas Ukrainian Catholic School, 2200 W. Rice St., opened its doors this week for the 77th year, its humble roots were planted in 1908 by Rev. Nicholas Strutynskyj as a Saturday school. 
Its first class of 10 was taught by the parish cantor (diak), Isidore Kostiuk in the church hall on Bickerdike and Superior Streets every Saturday from 10 a.m. to noon. When the student population grew for the two-hour daily classes to more than 100 in 1924, four more teachers were hired as Rev. Wasyl Steciuk reorganized the school into four grades. 
The Sisters of St. Basil the Great were asked to take over the parish school in 1925 and the parishioners began focusing on the constructing a new school. They laid each brick themselves. 
Rev. Teodorowych and the Basilian Sisters opened the Saint Nicholas Ukrainian Catholic School in 1936. The Most Reverend Constantine Bohachevskyj distributed the diplomas to 14 in the first graduating class in 1940. 
In 1945, Rev. Sylvester Zurawecky O.S.B.M. donated the "gift of love" of $2,500.00 which began a campaign to raise funds for the construction of a high school. On March 26, 1954, the school was dedicated by Metropolitan Constantine Bohachevskyj. It cost $506,746.13. 
However, because of the influx of young students due to the immigration of Ukrainians beginning in the 1950s, the high school never materialized. The grade school attendance peaked with 1,200 in 1962.
The St. Nicholas Cathedral School was built to educate and serve the children of our community. It was founded on an unwavering commitment to education, a characteristic signature quality of our Ukrainian Church and community.
The School has played a central role in the Ukrainian community's effort to expand educational opportunity for all its children. It has also provided facilities for Ukrainian Saturday School, adult evening classes, concerts and other community gatherings. 
During St. Nicholas School's 75th anniversary celebration it was stated that, "Our pioneers sought to make certain that future generations from this neighborhood and community have the opportunity to obtain a quality education." 
As the 2013-2014 year begins, the school, under the leadership of a new Principal, Dr. Susan Kurland, is looking forward to a new phase in its pursuit of quality education. We are reaching out in the community beyond our church's affiliation to all potential students interested in quality education.
Related:
Crime Stats By District
Columnists