St. Stanislaus Kostka School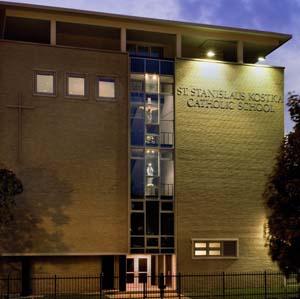 St. Stanislaus Kostka School, located right off the Kennedy Expressway at 1255 N. Noble St., has served the West Town community for over 137 years and is known as St. Stan's. Phone is 773.278.4560.
St. Stanislaus Kostka School is a ministry of St. Stanislaus Kostka Church and unites with families of diverse backgrounds and faiths to provide a Christ-centered environment for students in pre-school through eighth grade.
Their modern facility and highly qualified and dedicated teachers support a curriculum that is rich in intellectual challenge and academic achievement.  "We are more than a school, we are a loving community where children bloom! We provide educational excellence with nurturing care," comments their principal.
St. Stanislaus Kostka Catholic church was founded in 1867 as the first Polish parish in Chicago and is known as the "mother church" of all other Polish churches in the Archdiocese. St. Stanislaus Kostka School was founded on February 2, 1874, as a parish school affiliated with St. Stanislaus Kostka Church. With 150 students, St. Stanislaus Kostka School opened its doors as the first school organized through the efforts of The Congregation of the Resurrection. The school was placed under the direction of the School Sisters of Notre Dame. By the fall of 1874, enrollment had grown to 350.
Today many students are fourth generation family members attending St. Stan. "At St. Stanislaus Kostka School we believe we will be more successful in achieving in-depth learning when our entire community—principal, teachers, parents, students, pastor, parishioners and community members--work to build a collective educational experience that is clear, compelling, and connected to teaching and learning. Our mission is to be a sanctuary for learning where we proclaim a deep faith in God and love for life. As Eucharistic people, we empower our students to achieve academic excellence, embrace the diversity of God's creation, and commit to a life-long quest for knowledge, justice and faith. Through the power of a Catholic education, our students faithfully serve to make a difference in the world! Our students Enter to Learn, and Leave to Serve!"
Related:
Crime Stats By District
Columnists