Green shoots and Capricious weather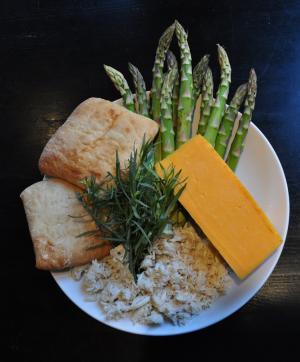 Spring has sprung! Here in Chicago it is an amazing 75°F and sunny, the daffodils are up and the redbud tree in my yard is getting ready to burst. According to my garden diary, last year on this day it was 30°F, stormy and dreary. Such is the caprice of Midwest weather. You just never know. Tonight, I am smoking baby back ribs on the grill and eating dinner on the patio. Last year I was eating oxtail ragout in front of a roaring fire in the fireplace. Groundhog's shadow or no, I am confident that fireplace will be used at least a few more times before the weather really turns.
Spring heralds the beginning of the growing season: fresh tender lettuces, asparagus, radishes, early carrots, peas, strawberries and rhubarb are right around the corner. April and May in the Midwest bring some of the region's most sought-after foods. Morels pop their elusive heads up in Indiana, Michigan, Illinois and Wisconsin. Since I have no hunting skills, I am eager to plunk down a pile of cash for these delicious mushrooms. Ramps and fiddlehead ferns are also pricey and irresistible.
After a winter of hearty cabbages, Brussels sprouts and root vegetables, the incredible green flavor of asparagus is like a breath of fresh spring air. However, the weather is fickle. As soon as you dig out the shorts and t-shirts, the temperature drops and braised pork shoulder sounds delicious again.
The secret to eating seasonally when the weather is so crazy is to remain flexible. On cooler nights, lighten a warming pot pie with a salad of tender greens tossed with a racy vinaigrette. When the thermostat threatens to pass 75°F let that braised pork shoulder cool to room temperature, slice thinly and serve with a relish of roasted rhubarb and mint. An asparagus soup can be served hot or cold and garnished in different ways. Add crumbled crisp bacon and slivered sun-dried tomatoes to hot asparagus soup. Serve the same soup chilled with thinly sliced mint leaves and shaved Parmesan.These crab and asparagus melts take advantage of one of the first spring vegetables to appear and are hearty enough to serve during the proverbial cold spring shower.
Crab and Asparagus Melts
This upscale version of a tuna melt combines a few ingredients for a gratifying lunch or simple summer. The combination of crab, asparagus and sharp cheddar is light enough for warm weather and satisfying enough for the inevitable cold snap.
Choose a simple white wine with good acidity such as a New Zealand sauvignon blanc, a Portuguese vinho verde or a South African chenin blanc.
Serves 8
1 pound                lump crabmeat, picked over for shells
½ cup                   finely chopped cucumber
¼ cup                   finely chopped celery
1 teaspoon            grated orange zest
4 tablespoons        Herbed Mayonnaise (recipe follows)
1 ½ teaspoons       kosher salt, divided
Several grinds white pepper
12 stalks               asparagus, tough ends discarded
4                          good quality hamburger buns or ciabatta rolls
2 tablespoons        olive oil
2 cups                   grated sharp cheddar
Preheat the oven to 350°F. In a large bowl combine the crabmeat with the cucumber, celery, orange zest, herbed Mayonnaise, ½ teaspoon of the salt and the pepper. Toss well, refrigerate, covered, until ready to use.
In a 3 quart saucepan bring 2 quarts of water to a boil and add remaining 1 teaspoon of salt. In a large bowl, combine a quart of ice cubes and a quart of water. Reserve.When the water is boiling add the asparagus and cook for 1 minute. Drain the asparagus and put it immediately into the bowl of ice water. Let stand until very cold to stop the cooking. Drain and pat dry.
Open the buns and arrange them, cut sides up on a baking sheet. Brush them with the oil. Bake until crispy, about 5 minutes. Let cool. Divide the crab mixture equally among the buns, making an even layer.
Cut the asparagus spears crosswise in half and arrange 3 pieces on each bun. Sprinkle the cheese over the asparagus and crab. Bake crab melts until cheese is melted and bubbly and crab is hot, about 10 minutes.
Note: This crab mixture can be piled on sturdy crackers, sprinkled with cheese and heated briefly for snacks.
Herbed Mayonnaise: I like to make my own mayonnaise but you can use store-bought as well. Place about 1 1/2 cups of mayonnaise in the bowl of a food processor. Add 1 bunch finely chopped watercress, 2-3 finely chopped green onions and 6-8 sprigs of flat-leaf parsley, finely chopped. Process the mixture until it is combined. For a more rustic mayonnaise, combine all ingredients in a bowl.
Adapted from West Town Tavern: Contemporary Comfort Food. All rights reserved
For more information about Susan, her book and the West Town Tavern: story
Photo by E. Coorens
Related:
Crime Stats By District
Columnists