A savory twist for the pumpkin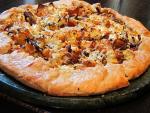 Why do pumpkin pie and butternut squash soup both sound so delicious, but pumpkin soup and butternut squash pie both sound so odd?
I am not sure when we decided that pumpkin would be used for desserts and other hard-shelled squash would be relegated to side dishes but the following recipe proves that pumpkin can be yummy in a savory recipe.
Serve this during halftime at your next football party and people will leave the potato chips alone. Be sure to look for a small sweet pie pumpkin weighing between one and two pounds. Avoid the mini pumpkins which are really for décor and have no meat, and save the big boys for jack o' lanterns. Of course, you could also use butternut squash in place of the pumpkin.
Curried Pumpkin and Goat Cheese Gallette
Serves 8
1                  pie pumpkin (about one pound)
2 tbls            olive oil
1 large          red onion, halved and thinly sliced in half-moons (about 3 cups sliced)
1/2 tsp          kosher salt
¼ tsp            ground black pepper
½ tsp            whole fennel seed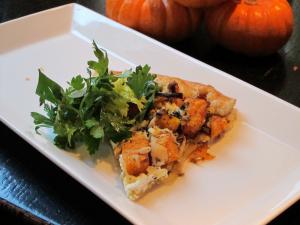 1 tsp             curry powder
4 oz              fresh goat cheese, crumbled
1 tbl              chopped fresh thyme leaves
2 Tbl             grated Parmesan cheese
Pie pastry for 1 crust pie, purchased or homemade
Preheat oven to 375°F. Peel pumpkin, cut in half and scoop out seeds. Cut flesh into 1/2-inch dice. Transfer to a medium bowl and add the olive oil, onions and spices. Toss well and spread onto a baking sheet. Roast pumpkin and onion mixture for thirty minutes until onions are caramelized and the pumpkin is almost tender. Let cool to room temperature. Pumpkin may be prepared up to two days ahead.On a floured work surface, roll the pie pastry into a 12" round. Transfer to an ungreased baking sheet or pizza pan. Spread pumpkin mixture over the dough, leaving a 1 1/2-inch border. Scatter the goat cheese over the top and sprinkle with the Parmesan cheese. Fold the border over the vegetables, pleating the edges. Leave the center open.Bake gallette until golden brown, 30 to 40 minutes. Remove from the oven, let stand for ten minutes before cutting into eight wedges.
For more information about Susan, her book and the West Town Tavern: story, zucchini . farmers markets
Related:
Crime Stats By District
Columnists