Yates Elementary School: Join the fun and support staff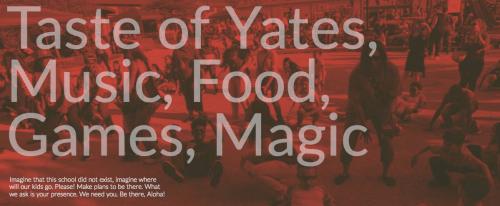 The second Taste of Yates Fundraiser, organized by a group of Yates Elementary School parents in Logan Square, will run from noon to 9 p.m. on Saturday, June 9 at Yates Elementary School, 1839 N. Richmond at Bloomingdale (The 606).
This year's event features food and drinks, children's games, Mr. Ash the Musician and international music and dance performances by Tierra Colombiana, Cadencia Flamenca ensemble, Africaribe and Shades of Time- a Santana tribute band. 
While last year's event raised sufficient funds to rebuild the kitchen for the culinary arts program, this year's goal is much higher.
Charlie Billups, lead organizer, explains that this year's funds will help counteract funding cuts which threaten to eliminate eight positions, including the school's art program and a librarian. 
Billups, who funds a small Bomba dance program out of his own pocket, hopes this year's event will also raise awareness of the school's role in the community. 
More information about this community school event, check their Facebook page or contact Charlie Billups at (773) 633-8957. 
Photo sources: *Charlie BIllups  **Lorena Billups
Related:
Crime Stats By District
Columnists