Double educational standards: CPS and Mayor Emanuel vs Chicago Residents (taxpayers…voters)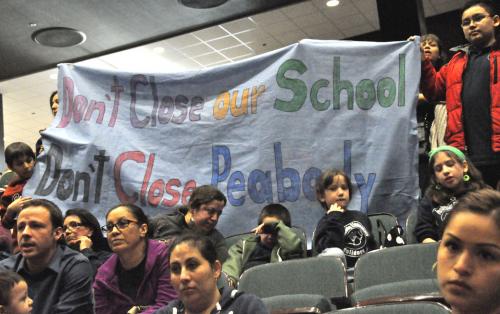 Statements and actions of Chief Operating Officer for Chicago Public Schools Tim Cawley, Mayor Rahm Emanuel and some aldermen give the impression that there are double standards for educating Chicago's children. A CPS occupational therapist asks, "Who is going to do the right thing?" 
One of Emanuel's early appointments in 2011 was Cawley. He was given a two-year residency waiver, allowing him to continue to reside in Winnetka. Emanuel supported the waiver. Cawley and his wife had adopted a 12-year-old Ukrainian girl the previous year and didn't want to "uproot her so soon." 
In January 2013, CPS Inspector General James Sullivan produced a 58-page document, an Annual Report of his office, which includes reporting of fraud and misconduct, and sent CPS Board President David Vitale a letter saying that the Cawley waiver should not have been approved. 
Becky Carroll, CPS Chief Communications Officer responded, saying that the board members decided to stand by their original decision. 
Different standards for CPS head and Mayor vs local students
Yet children, in the 54 schools on the CPS chopping block including Peabody, Lafayette, Duprey and Von Humboldt, are being given no such consideration. Many of these children are special needs or are ELL (English Language Learners). A simple event such as leaving their backpack on the bus can disrupt them for hours to days. But then CPS has been faulted on assessing learning disabilities. 
Emanuel's evaluation of Chicago's children surfaced in February 2012 when Karen Lewis, the then new Chicago Teacher's Union President, reported to NBC her "getting to know" the Mayor. "In that conversation, he did say to me that 25 percent of the students in this city are never going to be anything, never going to amount to anything and he was never going to throw money at them." 
The Mayor's Office denied the comment, accusing Lewis of having made up the anecdote. Lewis countered by saying that the Mayor says one thing in public and another in private. She went on to question, "If you say one thing privately and another thing publicly, then how do we negotiate that?" 
The Emanuels choose to have their children attend private schools and he is solidly behind charter schools. In fact, his former mayoral campaign co-chair, Juan Rangel heads up the UNO charter network, one of the city's largest, now under investigation. It continues to expand as Chicago neighborhood schools are closed and the private for-profit charters take over many of the public school facilities. 
Why was 10-year master facilities plan not completed before closings?
Raise Your Hand Coalition's Jill Wohl is questioning why school closures have been determined before a 10-year master facilities plan, required by law, has been released. "I understand that demographics change and that facilities change and that there needs to be some change in the system depending on budget.  But,  I don't understand why the largest number of school closings in the country are being done  before releasing the master facility plan. That seems to go against all business principles. I think that we should all see and  come to some kind of facilitative understanding of what the blueprint for proceeding is for the future." 
Who will do the right thing?
"Who is going to do the right thing?" asked a CPS occupational therapist at the Peabody meeting. Three of her schools are on the closure list. "These are schools with very hardworking parents and students. Parents who have no doubt suffered the hardest. They're the parents who are loosing jobs, homes, health benefits and loved ones 
"The Board is asking us to provide solutions. We have the solutions. But who is going to do the right thing? Our solutions are end TIFs, end loan swaps and put a clinic in our school.  End the suffering to the hardest hit families in Chicago. 
"Who will do the right thing and when it isn't done, what are we left to do? Our kids are up here crying. What are we to do when we're up here begging and the right thing doesn't come down from the board? What do we do next?" 
Aldermen's participation...or not
The aldermen in whose wards these schools reside have different senses of opinions and commitment. A Lafayette teacher indicated that 26th Ward Alderman Roberto Maldonado, in whose ward Lafayette resides in the new redistricting, will do nothing for them. "Maldonado says every student deserves a Level 1 education so everyone at Lafayette (which is not Level 1) has to fend for themselves." 
Lafayette was in the 1st Ward. Proco "Joe" Moreno, 1st Ward Alderman, attended Lafayette's public meeting in Clemente High School on Apr. 8 and said, "Lafayette was supposed to receive the Chi Arts Academy. Through no fault of their own, Chi Arts abandoned their build-out mid-summer. The school had a plan! 
"I don't see the fairness for a new principal trying to do great things with a great staff and great parents being pushed to the side…it doesn't make sense! 
"Lafayette's music program. What are we going to do? We don't have enough music programs and now we are going to push that to the side? 
"Lafayette has a plan for success. We are asking CPS to hear it and let them implement it," concluded Moreno. 
On Tuesday, Moreno spoke out about Duprey and Von Humboldt, "Parent involvement is crucial to our success…look at this parent involvement tonight. There are parents from Goethe, LaSalle II and Chase. We even have people here with grown kids because they are invested in these schools. 
"I will meet with anyone from CPS and the Mayor's Office anytime. We need to meet to implement the plan we have. We need to stay with the plan to keep Duprey and Von Humboldt open and our kids going to school there. 
"This community has come so far and I am so proud of their accomplishments, but that pride is starting to be crushed. We can not have our community crushed! 
"All the parents ask for are resources for their children to stay in their current school and that is not too much to ask!" 
When this reporter asked Moreno what he is specifically planning to do, he responded, "We have no defeatist attitude, we are not throwing in the towel. With the principals, we are using the facts to show why they should not close because they are working a plan. I am going to bring CPS Board members to the school." (Both schools share the same building.) 
"Peabody is in my old Ward," said 27th Ward Alderman Walter Burnett, in Eckhart Park on Apr. 6. "I support Alderman Fioretti in whatever he wants to do. If we can't get them to keep the schools open, then we need to get good programs in the schools where they are going. We have to see what the safety issues there are for them walking over to Otis. I don't think that gang things are as prevalent in that area as it is in some of the African-American areas. But, there are still some challenges. We have to make sure the children are safe and there are no problems for the children's parents. Sometimes it is not the kids but the parents who have the challenges. 
"Last time they tried to close Peabody, I supported the school. One thing about them is that they have a lot of supporters and different groups who do things in their school. They are rich in after-school programs. So I don't know why they won't let them stay open." 
Robert Firoetti, 2nd Ward Alderman says, "I'm deeply concerned about the way in which this process has occurred and about the impact the closings will have on our communities. The schools on the closing list are characterized as 'underutilized.' Yet they are highly utilized by the families who depend upon them. In many cases 3 or 4 generations from the same families have attended and gone on to work in or volunteer in these neighborhood elementary schools. And they're asking me: 'How can we develop a strong community without our public school to anchor it?'" 
The reason for closing all four of these schools is supposedly based on under-utilization. The problem that many have with that is that CPS way of counting how many students fill the school does not take into consideration that special needs classrooms do not have 36 students in them. The magic multiplier for CPS is 36 times the number of rooms.
Parents took back their streets by Lafayette

In the case of Lafayette, residents took back their streets. Rousemary Vega graduated from Lafayette, as did her father. Now she is the parent of four. With tears streaming down her cheeks, she explained. "We worked so hard. We fought off all the gang bangers and drug dealers…we finally cleaned our streets...our kids can go out and play. Now they want to take our kids from the streets we fought for. They'll have to cross gang lines. It's heart breaking. It is like the Mayor is giving us a death sentence." 
How welcoming are the "Welcoming Schools?"
"I called Chopin, the day after we heard the news," said Vega. "They said they don't have space, so we are going to have to wait for the first day of school."
Vega's, oldest daughter is a double honors student in music at Lincoln Park, having graduated from Lafayette. Two others are in Lafayette and the youngest will be going to school soon.
Documentation handed out at the meeting states: "Current Lafayette students will be enrolled at Chopin elementary for the 2013-14 school year, located at 2450 W. Rice St.., unless families choose to enroll their student at another school. 
"The Lafayette autism cluster programs will be relocated to Chopin or Lowell elementary. Lowell is located at 3320 W. Hirsch St. The office of Diverse Learners Supports and Services team will meet the families to review the recommended placement, unless they choose to enroll at another school. 
Both Duprey and Von Humboldt students will be enrolled at Diego Elementary at 1313 N. Claremont Ave. 
What are concerns about losing their schools?

Consistent across all four schools is the sense that having more students in the schools will lessen their educational experience and their community. 
Relationships between faculty, students and families appear to be strong, they are there for each other. If a parent needs to drop off their children early or pick them up late, teachers will help. Teachers often work with students beyond classroom time.
Schools have worked to bring more programs into their schools but then have had their plans thwarted. Then they ended up on the closure list because of "under-utilization." 
Many feel their school was targeted because it is a location prime for a charter school.
Based on questions and statements from community people as well as those directly connected to the schools, it sounded as though CPS really did not know a lot about their schools. Or, their decision making was flawed. 
The process of closures seemed to lack in planning and/or execution. 
Can schools still be saved?

CPS set up three meetings per school, with schools supposedly having the opportunity to continue waging the battle to stay open. 
However, the Mayor says "no more negotiations." So which is it? No one seems to know. 
Many attendees asked, "What is the point of having these two community meetings and a hearing for each school, if the Mayor says no more negotiations." No one seems to be able to answer that question. 
These actions could impact future elections
What is certain is that these actions will severely impact many families as they wage their own personal struggles to make a living and provide for their children. While additional school resources are a good thing, the nurturing and compassion of educators who really care are even more important to many. 
The individual stories tug at your heart. No doubt closings are necessary but it seems that the organization and methods of doing that are leaving a lot to be desired. It has made a lot of people distrustful. 
There was a fair amount of rhetoric about remembering these actions during up coming elections. 
Event setup

Both evenings were facilitated by Luis Soria, CPS Chief of Schools for the Fulton Network and
, Director, CPS Office of Language and Culture. Each meeting has a police presence so they can hear people's safety concerns. All were to listen, they were not allowed to respond or engage in conversation. 
Commander Melissa Staples of the 12th District was in attendance on Monday. When she arrived, she was given a chart to schedule officers to be present at other meetings. As she listened on stage, she was tasked with working out a schedule. During the Tuesday meeting, Commander Frances Valadez of the 14th District, observed from the back of the auditorium. 
People signed up to speak and were given two minutes.
A court reporter and a note taker were at all the meetings. The proceedings are to be given to the CPS Board before their final determination meeting. 
Whether involved with the schools directly, everyone present seemed to feel that they benefited from observing at least one or two of these meetings. They felt that it was one thing to read about the stories but hearing and seeing the people gave them an entirely different perspective. 
Clemente High School's auditorium, 1147 N. Western, hosted the community meetings for Peabody School, 1444 W Augusta Blvd.; Lafayette, 2714 W Augusta Blvd.; Duprey, 2620 W Hirsch St; and Von Humboldt, 2620 W Hirsch St. The second public meetings will be held in the same place. Peabody is on Fri., Apr. 12, 5 to 7 p.m. Lafayette is from 7:30-9:30 p.m. Von Humboldt and Duprey's 2nd community meeting will be Sat., Apr. 13, from 10 a.m. to 1 p.m. 
The public hearings will be: CPS, 125 S. Clark
| | | | |
| --- | --- | --- | --- |
| Thurs., April 18 | Board Chambers | 5:30 - 7:30 p.m. | Peabody --> Otis |
| Thurs., April 18 | Board Chambers | 8 - 10 p.m. | Lafayette --> Chopin |
| | | | |
| --- | --- | --- | --- |
| Wed., April 24 | Room 1500 | 5:30 - 8:30 p.m. | Roque de Duprey --> De Diego |
| Wed., April 24 | Room 1500 | 5:30 - 8:30.p.m. | Von Humboldt --> De Diego |
Related:
Crime Stats By District
Columnists