Lowes Foundation grant helps Goethe Elementary with phase one of sustainable green space project in Logan Square
An outdoor classroom and gathering space at Goethe Elementary School, 2236 North Rockwell St., benefits greatly by a $3,500 grant to Friends of Goethe School (FOGS) from the Lowes' Toolbox for Education program. Parents and kids all participated in using the materials that for phase one in the Goethe beautification plan. 
This project transformed outdoor space into a classroom area for teachers, a natural play-space for children and a gathering point for families waiting at pick-up and drop-off. There will be a ribbon cutting ceremony Sat., Oct. 13, at 4 p.m. following the Annual Fall Festival which  begins at noon.
The ribbon cutting will also mark the kick-off of the larger scale renovation of the Goethe's full schoolyard, which begins next summer. That renovation will replace the current crumbling and decrepit area north of the school building with a 21st Century sustainable schoolyard.
"It will include $1.2M of storm water infrastructure Best Management Practices (BMPs) funded by an Illinois Green Infrastructure Grant," explains explained Tamra Thetford, a parent and FOGS leader. "That includes $750,000 from the Illinois Environmental Protection Agency. Additional funding for the project will be provided by Illinois State Senator Iris Martinez, 1st Ward Alderman Proco "Joe" Moreno, FOGS, and Chicago Public Schools."
Not only will this playground project provide sustainable green space for Goethe's currently underserved students, teachers, families, and community, but it will also benefit surrounding sewer systems for homes and streets.  Work begins In the summer of 2013. Goethe's playground will be torn up and replaced with an entirely new environment.
"Six to seven years ago the school's enrollment started declining," explained Thetford, who led the beautification efforts. "The neighborhood began gentrifying and parents coming into the neighborhood sent their kids to school outside the neighborhood. So, parents with kids at Goethe started doing outreach to build enrollment.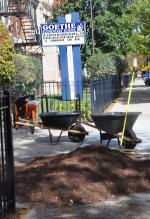 "Now younger grades are full and we have a total of 6 pre-school classes. They run five days a week with three classes in the morning and three in the afternoon."
The community is welcome to join parents, teachers and children between noon and 4 p.m. on Saturday, rain or shine, for the good old-fashioned Fall fun. For pre-K to 8th grade aged children, activities will include face painting, bouncy houses, ring toss, music and food.
Related:
Crime Stats By District
Columnists