Cubs' victory cheered on by music and bubbles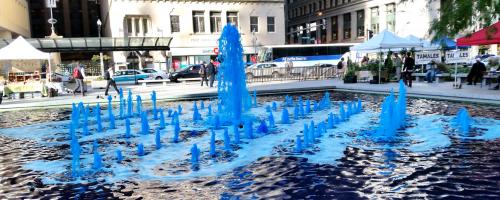 To encourage another W flying after Saturday's Cubs game against the LA Dodgers, Daley Plaza celebrates Cubbie blue with bubbling blue water and the Chicago Symphony Orchestra plays a rousing rendition of "Take Me Out to the Ball Game." 
First known as the White Stockings in 1876, they became the Chicago Cubs in 1903. Three years later they  won a record 116 games then lost to the Chicago White Sox in the World Series. 
In 1907 and 1908, however, they won back-to-back World Series championships. And they were the first team to play in three consecutive World Series. 
Though they have been in 10 World Series, the last one was in 1945! 
Imagine how the late and great broadcasters Jack Brickhouse and Harry Carey would love this series! 
To many, Brickhouse…Hey Hey Hey… was the voice of Chicago sports (Cubs, Sox and Bears). He would have turned 100 this year and imagine how excited he would be at Saturday's game. 
In 1991 Carey predicted, "Someday the Chicago Cubs are going to be in the World Series."  Maybe this year!
Related:
Crime Stats By District
Columnists