First Annual Like Bike Ride and Celebration will go up Milwaukee Ave. September 18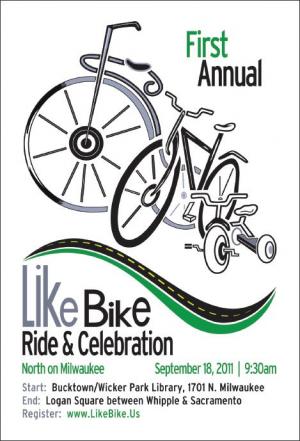 Sign up now for this fun cool event. People of all ages can participate in the First Annual Like Bike Ride and Celebration which starts at the Bucktown/Wicker Park Library at 9:30 a.m. on Sept. 18.
Going north on Milwaukee Ave., the destination is Logan Blvd. between Whipple and Sacramento, just east of the Logan Square Farmers Market. Rain or shine, participants may walk or ride in the protected space along the Avenue.
Lead by the Chicago Police Department, a representative of Saints Mary and Elizabeth Medical Center, Our Urban Times and the WPB (SSA #33) along with Aldermen Scott Waguespack (32nd Ward), Proco "Joe" Moreno (1st Ward) and Rey Colon (35th Ward), all who want to experience a community event that will be ecologically, economically and health conscious may parade up Milwaukee in a safe environment. Activities along Logan Blvd. will include a Saints Mary and Elizabeth Medical Center health station, the Junior Women's League of Chicago's Health Train for children, Chicago Safe Bike Ambassadors bike safety training, an aldermen's table, kids face painting and lots more.
At a time when biking is becoming more popular, issues of environmental  pollution and being green are desirable and more people recognize that eating healthy and being active increases quality of  life, biking/walking as a community event seems like an event not to miss.
Organized by Our Urban Times and the Near NorthWest Arts Council, the cross streets will be closed as the parade moves northbound up the avenue. Traffic will resume after the parade passes (aka "rolling close").
Registration for the event may be done on line. All who register receive a goodie bag and will be supporting the event and bringing the community together to facilitate more participation in biking activities, education and promotion. Registration is $5. For any question visit the LikeBike.Us website or call 773.235.8688.
Related:
Crime Stats By District
Columnists