The Jersey: Chicago Blackhawks fanatics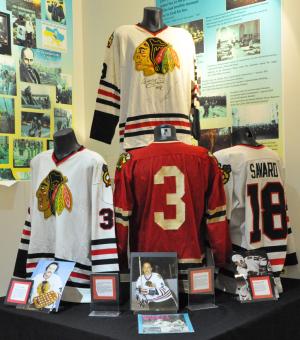 With the Chicago Blackhawks fighting for a repeat* with the Stanley Club, the Hockey Greats Jersey Exhibition was an even bigger hit at the Ukrainian National Museum, 2249 W. Superior St. 
In addition to the 40 jerseys on exhibit, organized by Steve Demitro, the puck signed by Chicago Blackhawks' goaltender Anntti Raanta was on display. The dedication on the puck: "To Ukraine Stay Strong." 
The new signed jersey in the silent auction went to the Self Reliance Foundation, with a bid of $1,000, which goes toward the maintenance of the Museum. 
*Hawks won the Stanley Cup in 2013 and in 2010.
Related:
Crime Stats By District
Columnists