Crash at Logan Square Blue Line Station closes one entrance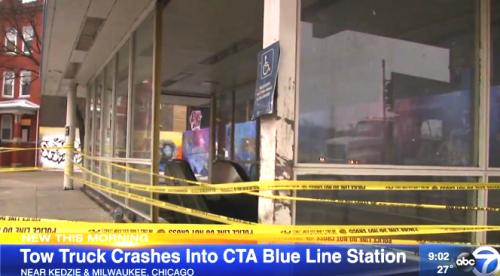 Early Saturday morning, a car slammed into a tow truck by the Logan Square Blue Line almost sending the truck's front tire over the stairwell entrance, according to a CBS News Chicago report. 
"The tow truck was sent thru glass enclosure," explained the Chicago Police Department's (CPD) News Affairs representative.
He also reported that the only injury was to the driver of the car who was transported to Norwegian American Hospital, 1044 N Francisco Ave. He was charged with a DUI.
Trains are not affected but entrance and exit to the platform must be via the  entrance on the northwest corner of Milwaukee Ave. and Kedzie, according to the Chicago Transit Authority's (CTA) Irene Ferradaz. 
CTA crews are on the scene now, there is no estimated time when that entrance will be re-opened.
Image from ABC News Chicago
Related:
Crime Stats By District
Columnists